Click here to visit TAIYO INDIA PVT. LTD. Website

Blade
Aoi Tsume
Patent JP-4423639-B2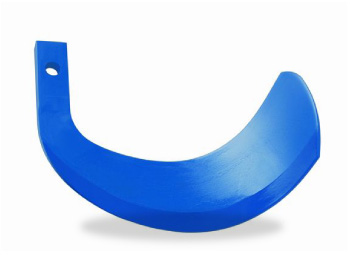 Robust, high-function tiller blades
Our Aoi Tsume are designed for farm tilling equipment and get their name from the coat of blue paint we give them. Not only is their appearance unique, they feature a special curved shape that yields better performance than traditional blade "Nata Tsume" types. Compared to Nata Tsume under the same usage conditions, ours offer:
(1)Better soil-turnover power
(2)Reduced straw and debris intermingling
(3)Robust, high-durability construction
When we first launched our Aoi Tsume in 1981, they became an instant best-seller nationwide. Their unique angled format allows ordinary tractors to yield better breakdown, turnover, and mixing of the soil. Their robust build also achieves top-flight soil tilling at low cost.

Improved soil turnover: stimulate the soil through upper/lower layer mixing
Minimal embedding of debris: excellent straw and debris separation allows for easy and clean mixing of the soil
Durability: ideal for use under heavy friction or for long periods of use

Performance comparison: Aoi Tsume as a baseline
Durability: 1.8 times more robust than standard hatchet type blades Nata Tsume
Sakura Tsume
Patent pending. no. 2014-52707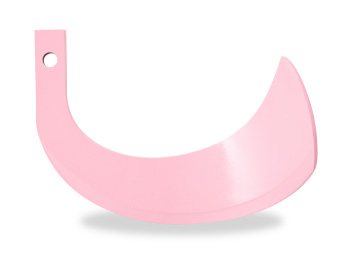 Lasts for the long haul
These Sakura Tsume (they remind us of cherry blossoms) boast long-term soil turnover and mixing even as their shape wears down over time.
Until now, when a blade wore down, it meant it was no longer suited for tilling. Our Sakura Tsume turn that idea on its head, allowing continued performance even as the blade width narrows with use. What started as our idea to develop a blade that offered continued functionality even under heavy wear resulted in this superior product.

Offers continued high soil turnover over the long term (Retain over 90% of their original functionality even after a 40% reduction in shape from wear and tear)

Dandan Tsume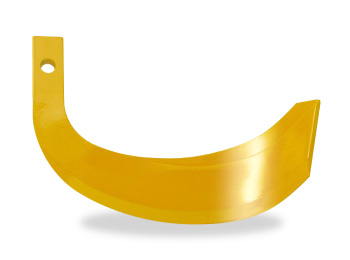 Wide shape and thick blade format
mimics that of traditional Nata Tsume
Our Dandan Tsume meet the needs of dry field farmers who require increased blade durability. Released in 1990, they have been developed based on the standard hatchet blade shape and are ideal for preparing fine soil for planting.

Suitable for all types of fields and farming conditions
Scalloped blade construction provides a clear visual indicator of when it's time to change blades
Yields excellent results for soil preparation and fine soil mixing

Durability: 1.5 times that of traditional Nata Tsume
SPG Tsume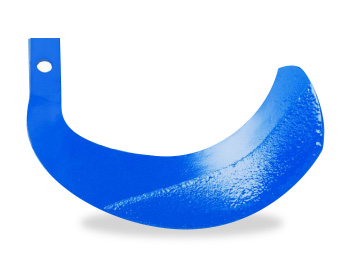 The perfect pairing of high soil turnover and long-lasting durability in one package
Since their introduction 30 years ago, our Aoi Tsume have been going on to replace Nata Tsume as the new standard for tilling. In recent years, farms have grown in size and scope,
increasing demand for durable, long-lasting equipment. In 2008, we developed a method of welding a superhard alloy to the part of our Aoi Tsume that sees the most friction, thereby increasing its durability and creating the new SPG Tsume.

Excellent durability: the classic Aoi Tsume shape with a specially welded finish
Superb soil turnover drawn from the same unique Aoi Tsume shape
Super mixing performance drawn from the same unique Aoi Tsume shape
※Not suitable for fields with significant rock content

Durability: 3 times stronger than traditional Nata Tsume
SP Tsume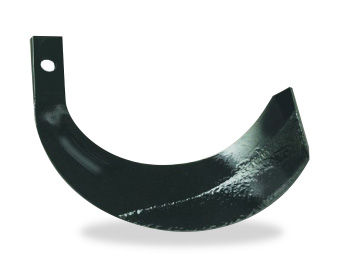 All you need for tilling fields
with lots of wear and tear
Our SP Tsume are a blend of our Aoi Tsume and traditional Nata Tsume, finished with a welded treatment of a superhard alloy. This combination has yielded a highly versatile blade that is equally suited to rice fields and dry crops. Developed in 1999.

Super durable
Suitable for both rice field and dry field tilling
※Not suitable for fields with significant rock content

Durability: 2 times stronger than traditional Nata Tsume
Nata Tsume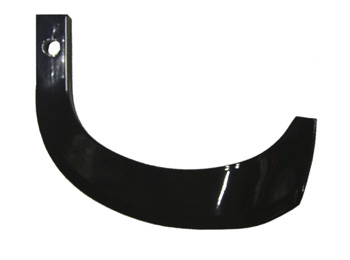 The standard tiller blade, beloved for over 60 years.
First seen in 1952, this standard blade type regularly appears as the default setup on tractors and tillers. Suited to everything from rice paddies and dry land, this "almighty" blade is as universal as it is easy to use.

All-purpose blade suitable for rice paddies and dry fields

Flanged Aoi Tsume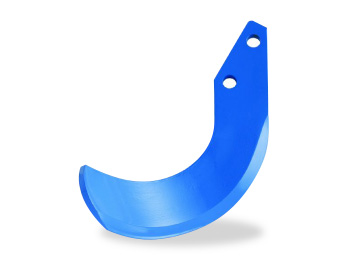 A creative curved shape taps new possibilities
In 1985, we developed the idea of taking our Aoi Tsume' unique curved shape and applying a flanged finish to it, creating a unit that was more durable, impact resistant, and better at soil turnover than blades of the time.

Superior durability: tilling functions remain intact even with age
Super strong: withstands bending and cracks
Excellent soil turnover and mixing
Minimal mixing of straw and other debris

Flanged Dandan Tsume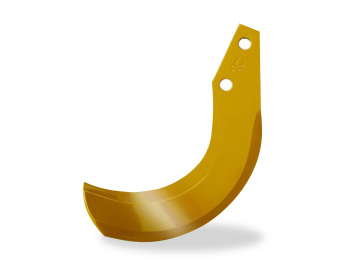 High function, low power intake
These blades were developed as an all-purpose, low power consumption model in 2003. They require lower horsepower than Flanged Aoi Tsume, which their basic configuration is taken from.

Suitable for all types of fields and conditions
Scalloped blade construction provides a clear visual indicator of when it's time to change blades
Superior soil turnover and mixing

V Tsume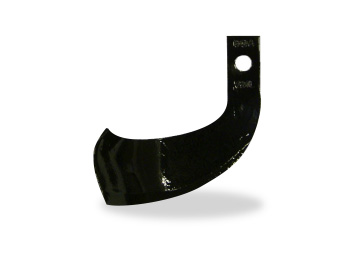 The best pick for vegetable fields!
Dedicated field maintenance blade.
Our V Tsume are designed specifically for the care and tending of agricultural plots, including creating troughs and clearing them of debris, building up soil around roots, mulching over seeds, and creating paddies.
The V Series includes blades tailored to each of these different needs, so please inquire for further details.

Superior durability:
The central spoon consists of spring steel bonded with the blade itself. This construction yields superior durability.
No soil residue:
Unlike previous generation blades, the spoon tip is not welded, allowing soil to smoothly flow off the blade
Superior soil dispersion:
No residue means blades don't get clogged, allowing for continuous, uninterrupted dispersion
Stable soil discharge and throw distance:
Wide tip and single bonded construction allows for stable discharge
■Core uses and crops
Seed beds
scallions, strawberries, tobacco, taro root
Troughs

konnyaku

Building up soil over roots
scallions,

konnyaku

, tobacco, taro root
Mulching soil over seeds
tulips, irises, lilies
Paddy building
Creating beds for strawberries, wheat, soybeans, and vegetables
One-touch Tsume/Tsumejiku(blades and shafts)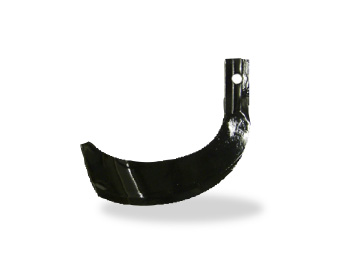 Easy installation and removal of blades make blade swapping in a snap!
Our one-touch blades use a specialized design and dedicated holder to allow for almost instantaneous installation. The special pin and cap mechanism minimizes excess straw and debris, and the blades will not loosen while tilling. In place of bolts, the one-touch system simply requires you to insert a pin and secure it with a cap. All you need is an ordinary hammer to complete the installation.
Greatly reduces time when realigning blades or swapping in new ones. Make your farm work more productive

Specialty holder and one-touch blade install/removal
No need to worry about nuts and bolts rusting, breaking, or loosening
Specialty pin and cap mechanism minimizes excess mixing of straw and other debris
Rotor
V Rotor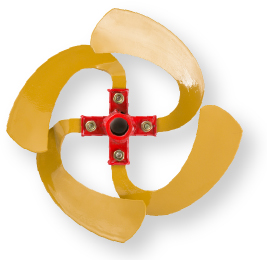 Create paddies and beds in one shot. Enables high performance work and eliminates the need for extra tilling of the seed bed
Unique shape and recoil evenly disperse large quantities of soil
Ideal for exacting field maintenance work like creating beds and troughs, packing soil, et cetera
Durable against wear and tear, allowing continued use
Haneage Rotor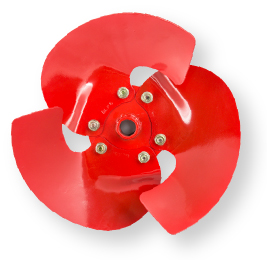 Unique winged design and pliable, tensile build disperse soil at long distances
Suitable for building seed beds for tobacco, layering soil, building beds in a greenhouse, dispersing soil to one side of a plot, and preparing crop beds for normal use
Unique winged shape and pliable construction disperses soil higher and farther
Cuts plots upwards, flinging soil far and allowing for long, flat plots
Mizohori Rotor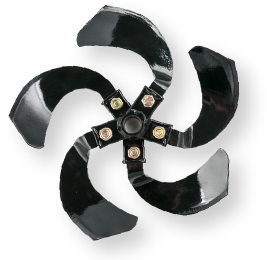 Nata Tsume-type rotor, works with even tough soil
Suitable for everything from covering seeds with soil to packing roots after planting