Click here to visit TAIYO INDIA PVT. LTD. Website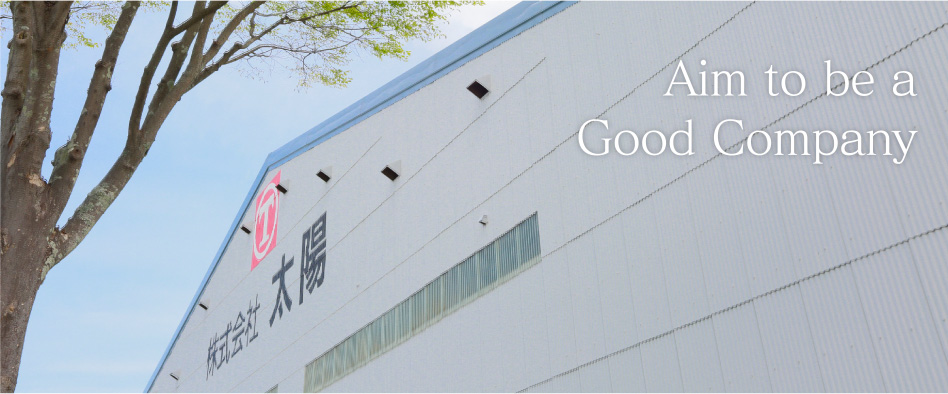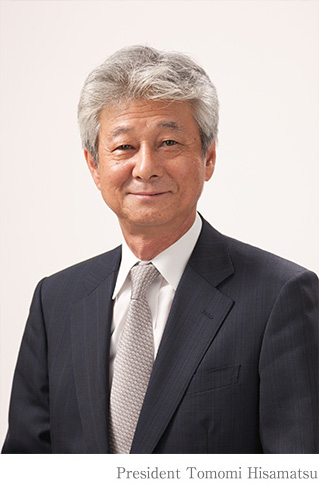 "Aim to be a Good Company" is our company slogan.
I believe that the company's mission is to deliver useful and reliable products to our customers while improving employee satisfaction by focusing on the basic values of "respecting humanity, contributing to society, and progressing without limitation."
Since establishing Japan's first mass production factory for "Nata Tsume" in 1953, we have met a wide variety of needs with our unique forging techniques. Our tiller blade sales have grown to hold a 40% share in the Japanese market.
The company's growth is the result of our continuous passion toward tiller blades as a leading company that satisfies our customers with quality, price, and service. The desire to create tilling blades that adapt to any soil and rejuvenate it enables progress in agriculture and brings rich harvests. With this in mind, we have been working on further developments.
Therefore in 2013, the year celebrating our 60th anniversary, we started a challenge for the new era.
By building a factory in India, we aim to expand our sales channels not only in India but also in the Asian, Middle-Eastern, European, and African markets. With the technologies and experiences cultivated in Japan as a specialized tiller blade manufacturer, we aim to be a company that looks toward the future and progresses without limitation in order to contribute to the rejuvenation of soils around the world.

Principles
(1)

Contribute to society by always being conscious of our social responsibilities as a top manufacturer in a specialized field.

(2)

Earn the complete trust of our customers by responding to the needs of the era.

(3)

Aim for sound management and move forward through steady growth and development.

(4)

Become a company with high standards that is suitable for the new era of technology innovations by actively developing new fields.

(5)

Improve the company and the lives of individuals while striving to work with mutual respect and trust.
Corporate Mission
Establish "Taiyo's trust" by ascertaining "what integrity is."
Five Oaths
(1)

We establish trusting relationships with our customers with honesty, modesty, speed, and commitment.

(2)

We create our own unique products with exclusive technical capabilities closely related to our customers.

(3)

We acquire a polished basic demeanor with the idea of the preceding-process responsibilities as a basis.

(4)

We take great pride in manufacturing unbreakable, unbendable, and highly durable blades which adapt to any soil for the purpose of contributing to the era of resource and energy saving and enriching soil.

(5)

We strive to be a company that continues to ask "what integrity is" at every opportunity.
Quality Slogan
"Provision of quality which garners the complete trust and satisfaction of our customers"
Company Logo
The sun is the source of all life. Sunrise symbolizes the breakthrough to the future. The logo is a simple design which combines the character "太" from "sun (太陽)" and "日" from "sunrise (日の出)" as the harmony between ourselves and our customers.

Company Name
Taiyo Co., Ltd.
Foundation
1920
Establishment of Company
July, 1953
Capital
60,000,000 Yen
Representative
President Tomomi Hisamatsu
Number of Employees
158 (Male 143, Female 15)
Gross Revenue
2,550,000,000 Yen (FY2020)
Location
3950 Nunoshida, Kochi-shi, Kochi, 781-5101, Japan
TEL +81-88-846-1230 FAX +81-88-846-2704
Main Businesses
Manufacturing and sales of tiller blades and blade shafts / Manufacturing and sales of agricultural machinery, such as root vegetable sorters & washers and vegetable packaging machines / Manufacturing and sales of agricultural attachments / Manufacturing and sales of environment-related equipment, such as fuel recycling system for waste oil and fluid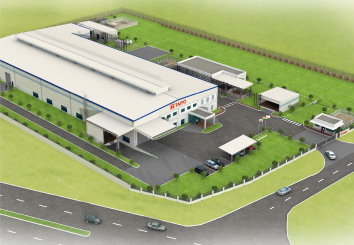 TAIYO INDIA Pvt. Ltd.

【Factory】
Plot No SP 91-A
New Industrial Complex(Majrakath) Neemrana,
Alwar Rajasthan 301705 India

Tiller manufacturers (in alphabetical order)

IHI Agri-Tech Corporation
ISEKI & CO., LTD.
KANTO NOKI Co., Ltd.
Mametora Agric Machinery Co., Ltd.
MATSUYAMA PLOW MFG. Co., Ltd.
Mitsubishi Mahindra Agricultural Machinery Co.,Ltd.
New Delta Industrial Co., Ltd.
OREC CO., LTD.
SASAKI CORPORATION
YANMAR AGRIBUSINESS CO., LTD.
Other agricultural machinery manufacturers
National Federation of Agricultural Cooperative Associations (ZEN-NOH)

Hokuren Federation of Agricultural Cooperatives
JA ZEN-NOH Prefectural Headquarters
Economic Federation of Agricultural Cooperative Associations
Japan Agricultural Cooperatives (JA)
Trading Company